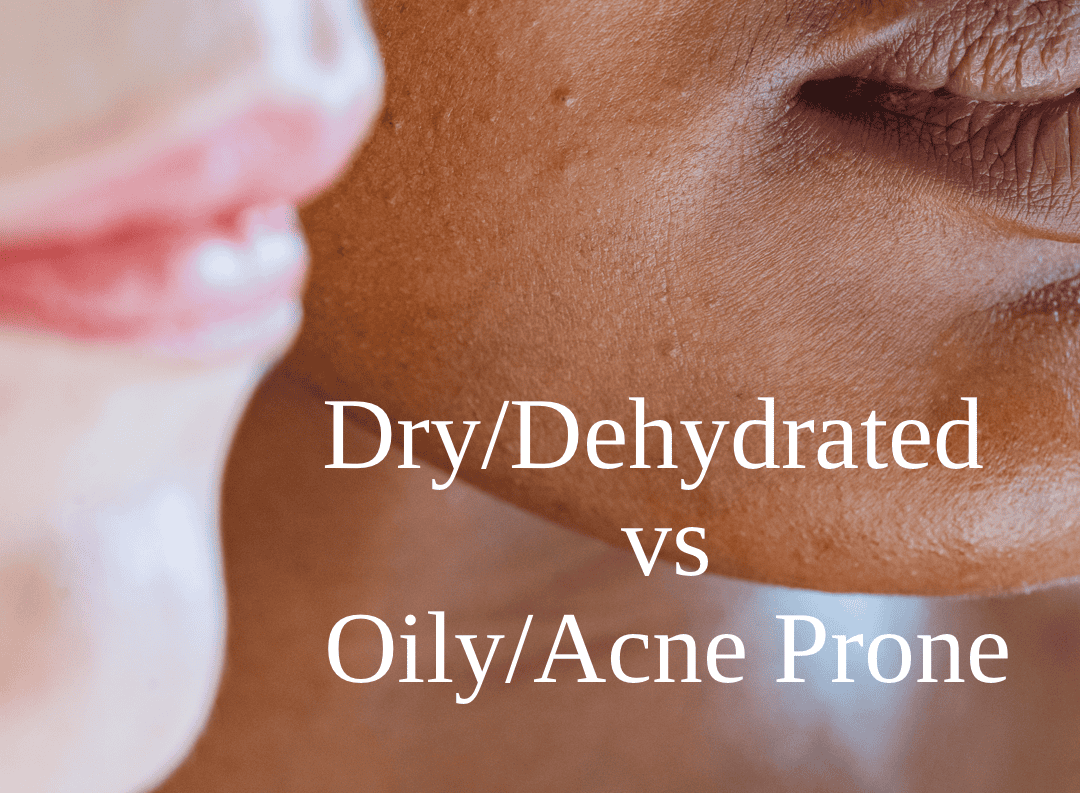 Finding products that suit your skin doesn't have to be a long-winded process. By first establishing the foundation of your skin, i.e. your skin type/concerns, you can skip the endless cycle of purchasing product after product to no avail, and instead create a skincare routine tailored to your concerns. Unfortunately, the many misconceptions surrounding what it really means to have and to treat dry, dehydrated, oily or acne prone skin types makes things that much harder. So, we can first start by breaking down some myths and misconceptions!
Dryness and dehydration – are they just the same thing?
It's not uncommon that people see dry flaky patches on their skin and throw around the terms dry and dehydrated interchangeably, with little regard to the actual meaning behind each one. But, whilst the surface level dryness may appear similar, there are some definite clear differences between the two. And most importantly, the ways in which you treat each condition will therefore differ. For those with dry skin, your skin is likely to show flakes, redness and can be itchy as a result, which is why choosing rich occlusive moisturisers, and intensely nourishing oils can work wonders to inject some oil and moisture back into the skin – which is exactly the thing it's lacking. However, with dehydrated skin types, although there can be some surface level flaking, there is usually also a layer of oil sitting on the skin as skin attempts to overcompensate for the lack of hydration by increasing sebum production. To tackle this issue, a light yet hydrating moisturiser and serum can transform the skin from being dull and lifeless, into having a healthy glow instead. The Vemel moisturisers demonstrate this perfectly. For dehydrated skin, the Daily Moisturising Face Butter is the perfect everyday moisturiser filled with fatty acids to boost collagen and give an overall healthy complexion. For dry skin, the Vitamin Rich Face Butter is the perfect fit – with nourishing oils and extracts to form a buttery rich moisturiser, it's an ideal step to ensure you skin wakes up feeling fresh and not parched. In fact, did you know Vemel offer a free skin consultation and product recommendation service, with product recommendations not only tailored to your skin but also to your lifestyle. In a recent survey conducted, 100% of Vemel customers said they believe the consultation helped to resolve their skin concerns – so it's definitely worth trying out.
Oil Cleansers Aren't For Oily Skin?
It's perhaps the most common misconception that most of us have believed at some point. The whole 'oily skin doesn't need more oil' idea. Fortunately, many of us have come to the understanding that the truth is quite the opposite – particularly when it comes to your cleanser. Rather than opting for a harsh, overly foaming and stripping cleanser, finding a simple oil cleanser is the perfect start to any skincare routine – whether you have oily, acne prone, dry or dehydrated skin. The benefits it can bring to each skin type is definitely worth acknowledging. The perfect example is the Vemel No.1 Cleansing Oil. Filled with antioxidants and multi-vitamins, it's the perfect first step to remove makeup, sunscreen, and the general grime from the day, effective, yet gentle enough to keep your skin barrier healthy. Free from irritants like added fragrance or essential oils means the product works wonderfully for even those with dry flaky skin, to those with sensitive acne prone skin.
Won't Serums Cause More Acne On Oily Skin Types?
For many of us, as we manoeuvred through the hormonal changes that come with puberty, it was often here where we first began the quest to find a skincare routine to combat those pimples and eliminate the shine across our face. Unfortunately, when it comes to oily/acne prone skin, many of us have been misled into believing drying the skin out of its excess oils will eliminate the problem at hand. The issue with this is that for most people with excess oil and acne, dehydration is in fact the underlying root cause, and the oily slick and acne are merely symptoms of the dehydration. So, when addressing these concerns, skipping out on hydrating products like serums and moisturisers is the last thing you want to do! Instead, addressing the source of dehydration with non-comedogenic light yet hydrating products that won't clog the pores can dramatically improve and control the excess sebum production, therefore reducing acne flare ups. To ramp up your routine a little further, look for products that are not only super hydrating, but also densely rich in vitamins and antioxidants to help inject a little extra goodness into the skin, whilst also keeping bad bacteria growth at bay. For example, the Vemel Active Radiance Serum is the perfect combination of oat active to repair and renew the skin, paired with fruit extracts like grape, raspberry and pomegranate to lock in long lasting moisture and deliver skin loving antioxidant to fight off and restore areas of inflammation on the skin.
Ultimately, the true difference between each skin type is the root cause. And once you are able to address a skin concern from its very core, products can be tailored accordingly, massively improving the chances that they will work effectively. So rather than looking for quick fixes, or products that will give the immediate appearance of refined and healthier skin, but later show more damage than good has been done – you can skip past all this trial and error and commit to a system that rewards your skin not only for now, but for many years down the line.